Collinsville, Illinois U.S.A.
Motto: "Horseradish Capital of the World"
Country United States
State Illinois
County Madison
Population 25,579 (2010)
Government Council-Manager
Timezone CST
Postal code 62234

Collinsville is a city located mainly in Madison County, and partially in St. Clair County, both in Illinois. As of the 2010 census, the city had a population of 25,579, an increase from 24,707 in 2000. Collinsville is approximately 12 miles from St. Louis, Missouri and is considered part of that city's Metro-East area. Known for having a large ethnic population, It is also the home of the world's largest ketchup bottle (Brooks Catsup Bottle Water Tower), built in 1949 by the W.E. Caldwell, and is the world's horseradish capital. Monks Mound, the largest Pre-Columbian earthwork in the Americas, and the largest pyramid north of Mesoamerica. Now part of the Cahokia Mounds State Historic Site. Monks Mound is larger at its base than the Great Pyramid of Giza. The complex also includes a reconstructed Woodhenge, used for complex astronomical sightings. There is a museum and visitors' center.


Collinsville was originally settled by the Cook family and by a group of German American settlers who arrived by Conestoga wagon in 1812, from Pennsylvania, and who founded the Holy Cross Lutheran Church. They also had a hardware store, though they were mainly farmers. Within five or six years, a number of other settlers had arrived and began to perform the legal work required to form a town on the site. These original settlers are all buried in the Cook Cemetery or the Old Lutheran Cemetery. Other early settlers are buried in the Old German Cemetery near Sugarloaf Road near Maryville, Illinois.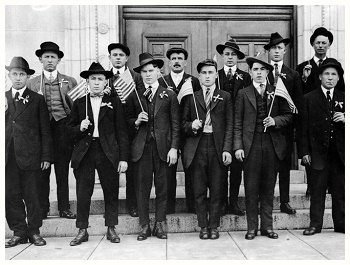 During World War I, a Collinsville mob lynched a German-American citizen, the only such murder in the country. On April 5, 1918, a mob of men numbering in the hundreds took Robert Prager from his home and paraded him through the streets barefoot and wrapped in an American flag, forcing him to sing patriotic songs. The Collinsville police interceded and took him into protective custody. A group formed outside of the city jail, however, and, threatening to burn it down, were permitted entry. Two men found Prager hiding in the basement. They took him outside and the mob marched him to the outskirts of town, where they lynched him. His final request was to be buried in the American flag. Eleven men stood trial for the murder, but all were acquitted.






Notable people:
Art Fletcher, shortstop with the New York Giants and Philadelphia Phillies; born in Collinsville
Moses Harrison, Illinois jurist
Jerry Kane, first baseman and catcher for the St Louis Browns; born in Collinsville
Tony Malinosky, third baseman and shortstop for the Brooklyn Dodgers; born in Collinsville
Terry Moore, center fielder for the St. Louis Cardinals; lived and died in Collinsville
George Musso, Football Hall of Fame lineman for the Chicago Bears; born in Collinsville
Robert Prager, German immigrant who was lynched in Collinsville during World War I
Joe Reiniger, forward for the St. Louis Illusion (Major Indoor Soccer League-MISL)
John Shimkus, US congressman; born in Collinsville
Michael Stipe, lead singer of R.E.M.; graduated from high school in Collinsville
Daniel A. Vallero, research scientist; author; adjunct professor of engineering at Duke University; grew up in Collinsville







Two of the latest YouTube Videos
Click HERE for more YouTube Videos